A couple years ago, I signed up at the Universal Life Church Monastery, and became an ordained minister of the Universal Life Church. I did this in order to perform the wedding of one of my best friends. A few months ago, one of my former co-workers at Symantec, messaged me to see if I could still do weddings. He and his long time partner were finally going to get married, and they wanted to get married at one of their favorite places to go…Disneyland.
The problem with getting married at Disneyland is that its not allowed. Sure you can get married at one of the hotels…starting at $10,000 for the official Disneyland wedding experience. Even then, you can't get married inside the park at that rate.
So my friend asked if I'd be willing to perform a "rogue" wedding inside the park. It would be just the two of them, a witness and myself. I was more than glad to help out, so it was just a matter of my friend figuring out the date.
The date was finally set for May 5th and I took the afternoon off from work. Because of a last minute change of schedule, Alicia wasn't able to come with to be the witness, so my friend Noelle stood in. We got to the park around 3pm and headed in to find a good location to perform the ceremony. But first we had to stop and get some Mickey ear's to complete the dress code. We ended up finding a nice quiet spot next to the Thunder Mountain Ride (which was closed for maintenance), on a wooden bridge overlooking a pond (with turtles sunning on the shore). The ceremony was fairly quick, just the vows (read off of the Bride's iPhone), and the exchange of rings. A few people caught on and cheered when it was over (and the possible staff member that walked by ignored it).
After the ceremony, we got some celebratory lemonade (enhanced with some adult water) to toast the happy couple, and then explored the park until closing.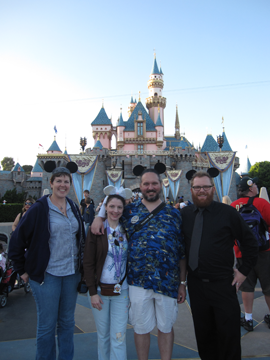 After the parks closed, we returned to their hotel to sign the papers (and make it official), and then had dinner at the mexican restaurant at Downtown Disney to celebrate both the wedding and have Cinco de Mayo margharitas!